Those were the old stories when women with spectacles were considered nerds or dorks. This is the era of fashion, style, and trends. And glasses became an inseparable part of the fashion accessories for ladies. Ladies nowadays, change their Hairstyles for the glasses they wear. From eye shadow to lipsticks and hairstyle, everything should be aligned. It is therefore very important to match the right hairstyle with the right pair of glasses. After all, it takes a lot of effort to paint a picture-perfect face. So, let us today talk about the best hairstyles for glasses you love.
What should be your hairstyle depends on your eyewear also. Not all types of hairstyles go right with every frame. Stop being a trend follower, be a trendsetter and explore the world of hairstyles for glasses.
Hairstyles with Glasses for Lovely Ladies with Short Hairs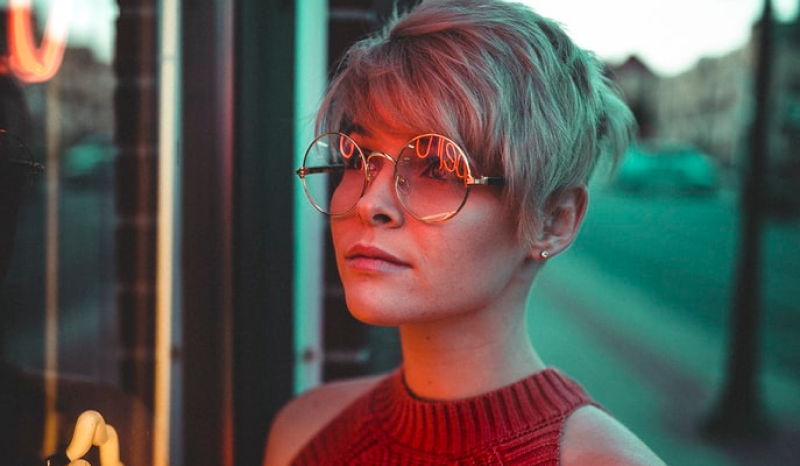 Short hairs are easy to maintain and look very pretty on all faces. It wouldn't be wrong to call them the favourite hairstyles of girls because it is easy to get ready to go anywhere in no time and look good as well.
Aviators And Short Hair Look Super Cool
Aviators are big metal frames that are classic and vintage models of glasses. Although with time, so many changes have been done it is original. The look is still revived. Aviators having a slight fringe near the forehead look awesome on women with short hair. Creating a killer look giving a rough tough side of your personality, these frames win the heart of all the ladies who have short hair.
Thinnest Frames Becomes A New Style Statement
If your short hairs are distributed over your face and backside both, then thin frames give a killer personality that looks exactly like, Wow! Getting a new and redefined look overnight is the best way you could earn. More than a round frame, try out a thin square or a rectangular one.
Short Hair and Butterfly Frames
This one is another vintage frame that looks best with short hair. Such frames are called butterfly frames because they are thick at the end and are a bit big. Ladies with sharp jawlines must try this one as it perfectly defines your style.
Hairstyles with Glasses for Lovely Ladies with Long or Medium Length Hairs
Hairs are one of the parameters to define or measure the beauty of girls. Long hairs add up to the beauty of the lady and it will be 4 times multiplied if matched with the right pair of glasses.
We are here sharing some ideas to get matched with the right pair of glasses with long hair.
Buns and Cat Eye – The Perfect Match
Cat-eye frames are always on for all types of locations and occasions. And it will be icing on the cake if you have long hair and make a bun. For an office look or formal wear, a tight bun and cat eyes give you a perfect professional appearance. If you want to carry the hippy style, the cat-eye again comes to rescue you. Long open hair with a little curly at the ends and cat eye makes the perfect combination to be called a stylish look. Cat-eye frames are sizzling when you open your long hair and a bit of eye makeup. Even straight hair and cat-eye glasses together form a good combination of what you call fashion.
Round Glasses and Long Hair Styles
Big round glasses go better with long hair or messy buns. Round glasses with a messy and loose bun add a sassy colour to your personality. Many times, you don't get enough time to make up your hair right, wearing round glasses compensates for those messy buns made in a hurry. Round glasses, no doubt, look better with long hair, so do not forcefully match it up with short hair otherwise you will end up with a good look in vain.
Rectangular Glasses With Long Hair
Indeed, managing long hair is not easy. Many times, you have to rush, no matter if you are a housewife or a professional. In such a case, you do not find much time to dress your hair well. Carrying a thin or thick pair of rectangular glasses takes eyes off from your hair to your overall look.
Curly and long hair with round and rectangular thin glasses add up to your style and raise the bar of your confidence to the next level.
Hairstyles for women over 50 with glasses: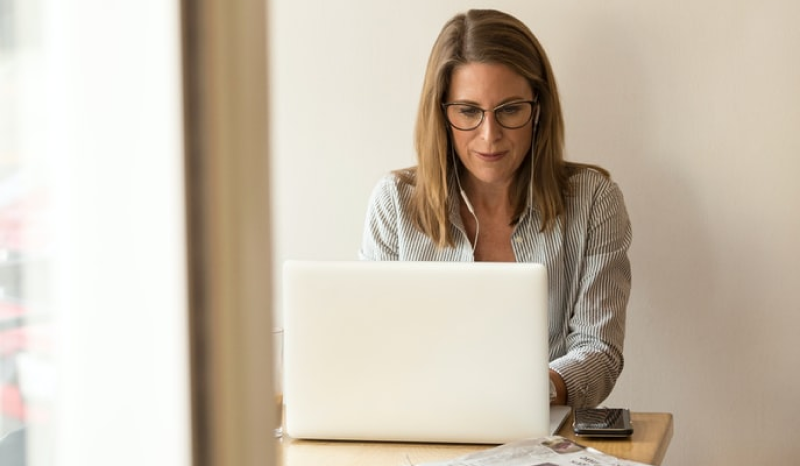 Embracing changes in your body and looks when you age may seem difficult. However, you are not alone in it. When it comes to choosing flattering hairstyles for women over 50 with glasses, there are various options to choose from.
Carry the side-swept bangs look with an angular or trapezoidal glasses style to look stunning instantly. They look simply amazing with every outfit as long as the frame best suits your face.
Silver and straight long hair paired with oversized glasses:
A long hairstyle for women over 50 always looks adorable. Try oversized frames to fit in your bifocals or reading glasses to add functionality to fashion. Book this look for a graceful appearance in older age.
Some More Tips To Dress Hairstyle for Glasses
Besides the above, there are some general thumb rules or tips that help you to dress up perfectly every time you wanna go out.
Always Choose a Soft Frame
By Soft frames, we mean frames with thin edges and a gentle look. Especially in formal meetings or official catch-ups, never wear a hippy look otherwise all the attention will be drawn to your glasses. However, if you have angularities on your face, wide frames look better rather than narrow ones. On the contrary, if your face has soft edges, do not choose wide frames.
Follow The Trends – The Wrap Up
Trends are always the latest and in-demand, so never miss a trend that may showcase your fashion awareness as well as the confidence that you wear. Glasses are the most important part of your attire because it is easily apparent to observe by people you meet. Following trends is always safe to live with.
---